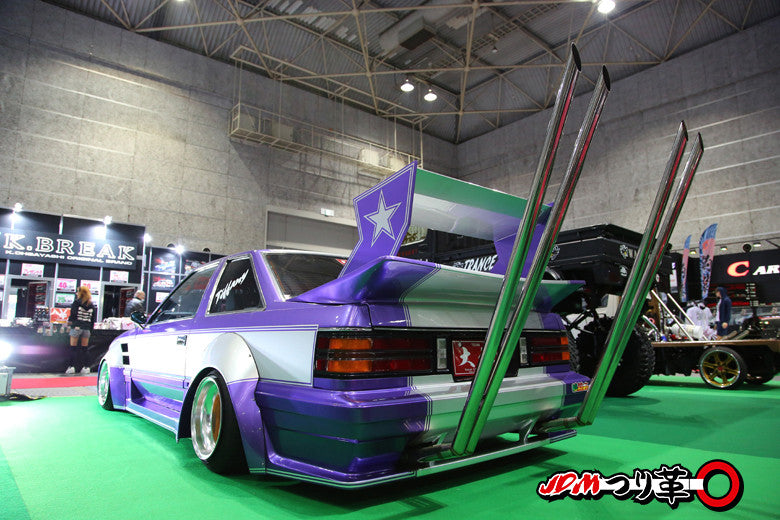 Osaka Auto Messe 2016
The 2016 Osaka Auto Messe, held at the Intex Convention Center last week has just closed it doors, but we were there to bring you back some photos! This 3 days show is the second biggest event in Japan for customs cars and bikes, right after the Tokyo Auto Salon. The flavor is quite different though, with more VIPs, Kaido Racers and Bosozoku machines. This is definitely not something we will complain about!
The local folks from Hello Special had the coolest booth around with super cute modified Kei cars/trucks (small city cars equipped with 660cc engine) bososoku style! 
Hello Special is specialized in modified Kei trucks like these. Kei trucks are usually used by farmers or country side people as they are cheap and very convenient.
Hello Special girls with their cute tokko-fuku uniform.
Hello Special new demo car: Suzuki Alto with an old Nissan Hakosuka race colors.
JDM Tsurikawa x Hello Special Special Kyoto Edition!!
Dekotora (Decorated truck).
Some cool bosozoku bikes brought by Bike Factory Kittan.
Nissan Skyline "Japan" kaido racer.
Those works fenders are sexy!
Kei trucks with a twist.
Toyota Soarer GZ10 long nose!!!
Soft, but clean, exhaust system on this one!
No limit! Mini scooter can also be bosozokued!
Beautiful CBX400F at the K Break booth!
See you next year!