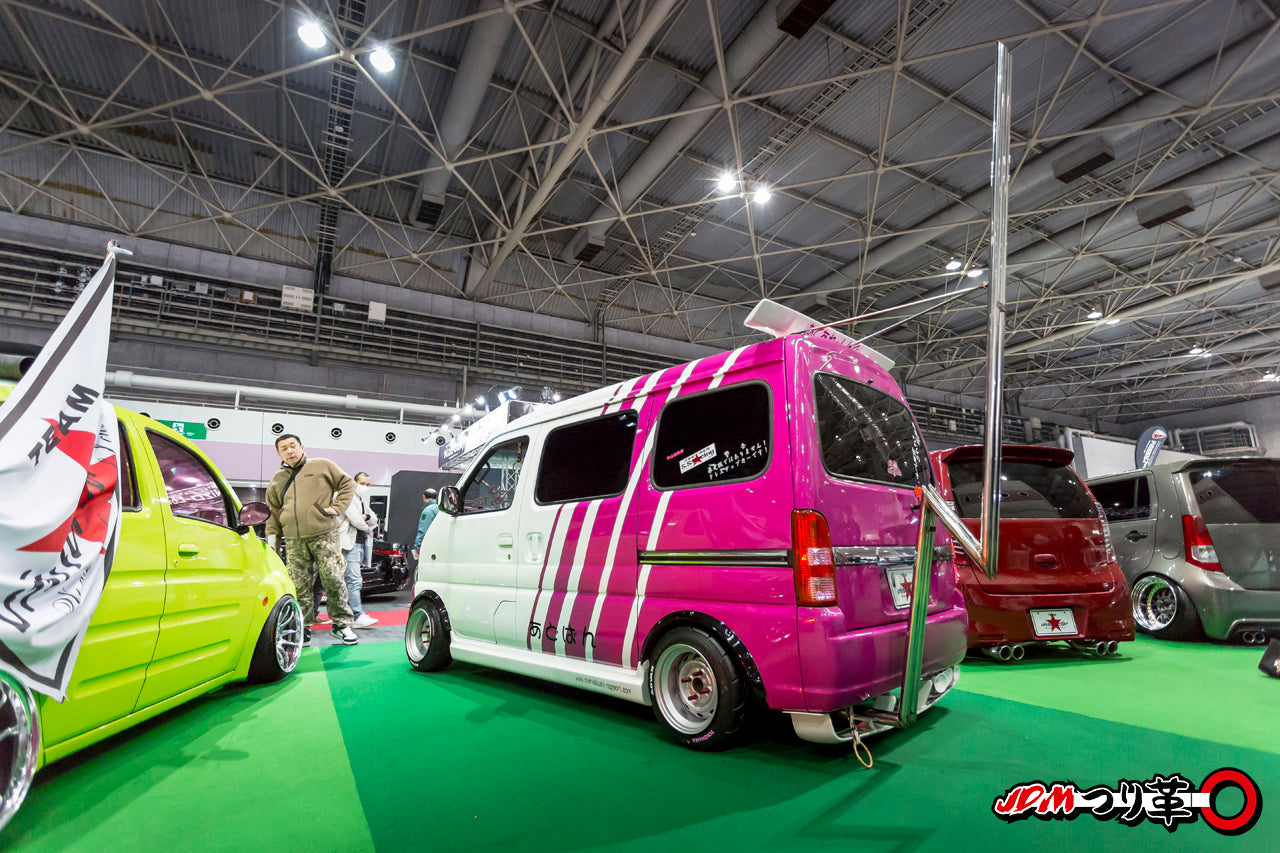 Osaka Auto Messe 2018
If you're travelling in the Kansai area in February, there's a car show you don't want to miss: The Osaka Auto Messe! The Tokyo Auto Salon held earlier in January usually sets the tone on new trends but the Messe is the show for more yancha (wild) projects. 
Last year Auto Messe
was really exciting and it felt like we would be able to see more bosozoku oriented project in the future. So, naturally, we went to this edition with our hopes high... but, to be honest, left it with our belly empty. Luckily, quantity and quality are 2 different things, and we truly enjoyed seeing new faces and catch up with old friends!
 Once again, Bike Factory Kittan brought a bunch of bosozoku inspired bikes. The brand, located in the northern part of Osaka, is very popular among youngsters looking for old bike parts and cool accessories. 
 Beet is still producing a lot of parts for old bikes, but those side covers are now hard to find (disconnected)!
 Absolutely in love with the color theme on this GS400!
 Technical Service is famous for its incredible Candy paint jobs. Here is an example on the CBX400F they displayed at their booth.
 This cap style helmet is very popular among bosozokus (when they wear one…). Technical Service brought some cool customized ones, including Candy Paint rare (and very expensive) models.
Once again, our friends from Hello Special had a large booth and brought a lot of new demo cars!
The famous 86 Carry has been completely redesigned, with new wide fenders, original wheels and a Deppa style spoilers.
 The little Kei truck gives quite an impression from this angle!
 This L50 Carry embrace the Dekotora style, but in smaller format! Very cute!
 Oda-san (Hello Special big boss) posing next to his new "Eight Six" 14x10J wheel! Crazy!
New this year, a booth with Dekotora plastic models and dedicated accessories.
 Kids could also create their own design using special pen to illuminate LEDs.
 If you're very patience, that's how it can look like!
 This Dekotora model is made out of paper! It even has LED's to shine in the dark!
 Really clean Celica XX (by RIAN) with huge Takeyari muffler! It's nice to see some raw "yancha" cars at the show, while everybody else is focusing only on recent trends!
 The WORK Equip are a perfect match for the Toyota! Nice stretch on the back too!
Our favorite car of the show! The Vivid Cluster Suzuki Every (van) was without a doubt the coolest car around, with a lot of nice details and a very cute livery!
 Inspired from the Kaido Racers, the external oilcooler is a "must have" on this kind of project!
 Love the 4 heart lights! Impossible to find nowadays!
 So happy to find our original Kyoto Tsurikawa both inside and outside the car! Thank you guys! m(_ _)m
 Once again, the beauty is in the detail!
 The Kimono Kyoto Tsurikawa is probably our most popular model in Japan. 
 K Break is a very famous brand in the Kansai area. They've built some of the craziest VIP sedan over the past 10 years. But the shop is also famous for its modified bikes.
 The Liberty Walk Lamborghini Miura (based on a Ford GT40) was one the highlights of the show! Kato-san knows how to please the crowd!
 That's all for this year! Don't hesitate to leave a comment if you want us to cover more of the event next time or if you have any question!
Yoroshiku!