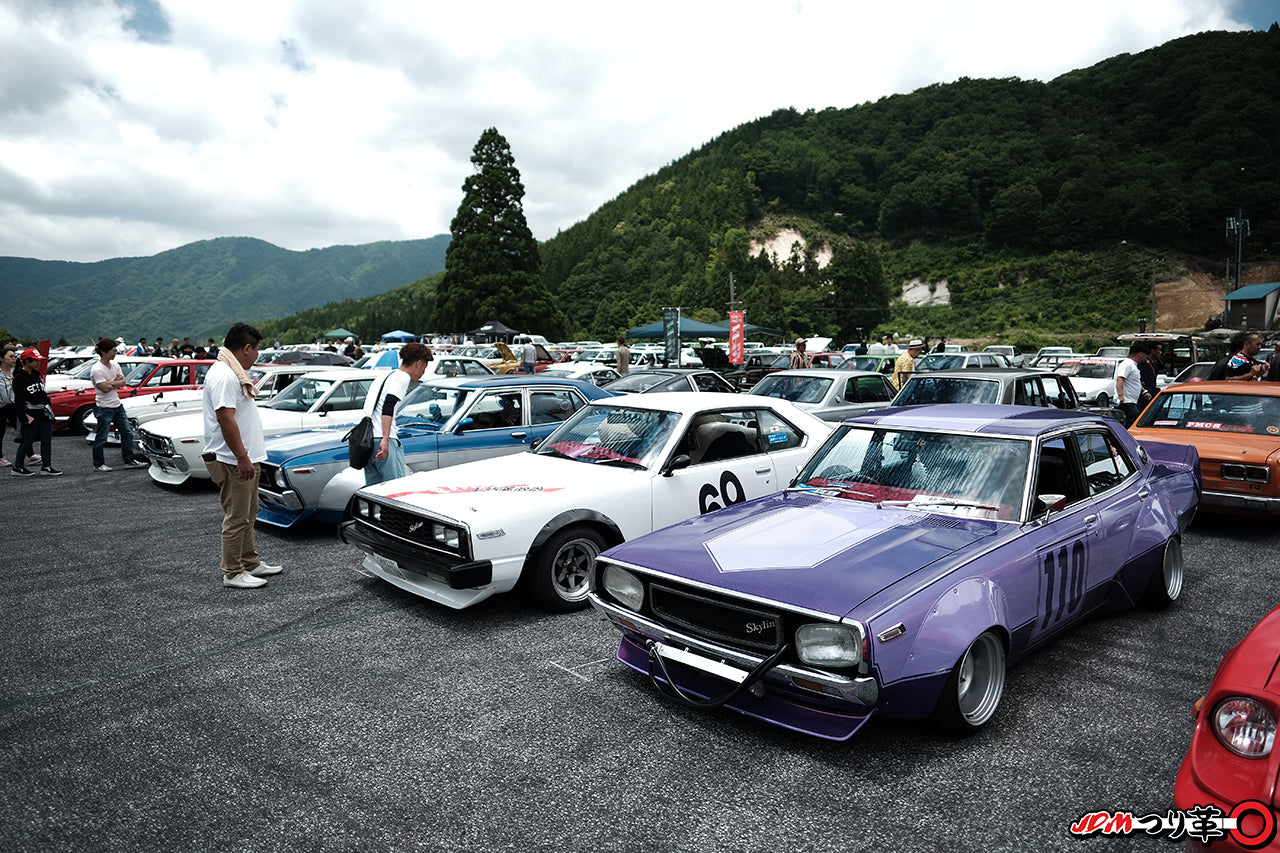 Dual Factory Chubu Meeting
 Sometimes in life you have to face tough choices. Well, last week, we had to deal with one of them! Calendar coincidence, this year, the
Fujikawaguchiko Auto Jamboree
and the Dual Factory Chubu Meeting were held on the same day... As much as we love the 
boso
event in Fuji, we heard so many good feedbacks on the Dual Factory meet that we chose to head to Shiga Prefecture this time.
 The meeting in one thing but you really don't want to miss the roll-in! You have to get there early for that, but it's really worth the effort! No trailers! That's one of the rules here. So all the cars has to be driven to the venue! Try to picture 250+ oldies roaring through mountain roads as they climb to the
Okuibuki ski resort
. You don't want to miss that! 
In summer, Okuibuki is a real paradise for car enthusiasts. The ski resort, located near the lake Biwako in the Shiga prefecture,  welcomes countless car meets as well as drift events (Formula D organized a round there few years ago) and gymkhana competitions.
 The car club Dual Factory was created in 1999 by kyusha lovers. Over the years, the team has grown to over 50 members and has organized more events than you could count. The yearly meet in Okuibuki has been held for few years now and is without a doubt one of the largest kyusha (old cars) event in Japan!
 The Dual Factory Chubu Meeting is pretty open to everybody, as long as you have a Japanese car that is period correct (max late 80s). Unfortunately, zokushas with aggressive aero and takeyari (long mufflers) are advised to stay home... Organizers are always under a lot of pressure, and they have to make sure everything go smoothly as Police keeps an eye on what's going on. Fortunately, cops don't show up or wait outside the venue anymore, but it's pretty common to spot an undercover car filming the cars coming in. 
 A handful of team members from Kanda Racing showed up, including this stunning Yonmeri!
 It was really cool to catch up with the folks from OK Racing! The teammates , located in Nara and Kyoto prefectures, brought their impressive collection of Skylines Hakosuka and Kenmeri.
 Super wide Speed Star MK-III
 Okajima-san from OK Racing
 Hands down the cutest Honda Life that day!
You don't get to see many white GC10 and this race-inspired one surely hits the spot!
The Honda Life Step Van was realized in 1972, right after its little sister.
Tiane loves to rides its onikyan trailer!
 Genuine tsurikawa from unknown origin. We had a couple of those in the past and weren't able to trace what Railway Company they came from... The Mystery tsurikawa!
 Dai Candy's Yonmeri pretty much stole the show at Okuibiku! Dai-chan's new paint job and fender work are absolutely amazing! Can't wait to get more pics of this beauty!
After all those years, the Hayashi Racing Yayoi wheels (now discontinued) are still in mint condition!
 The Manji symbol (aka Swastika) is often in Japanese culture and is related to Buddhism religion. You can see it on maps, as it indicates the location of temples. 
Not a single complain about this Skyline GC110! The unusual color suits the Coupe like a glove!
 Some of the local members of the Liberty Walk crew joined the party. No need to introduce Tabata-san's gorgeous Kenmeri anymore! Lovin' his new side exhaust!
 Is there anything cooler than a 230 Gloria?
 Z10 Soarer long nose
 Did you spot the tail light hidden in the "B" of Bridgestone?
 Award of the cutest couple goes to... 
 30 Chaser from Kanda Racing
 Even from this angle, you can tell that something is wrong...
Tsurikawa love! Everywhere! 
After driving hours, most of the time without A/C, a break is more than welcomed!
 Classic light grey strap x white ring combo 
 Please enjoy detail of this fender work
 Devil Japan IF Racing with brand new barrels
 A tsurikawa is something you keep for years. It becomes a part of your car, a part of you.
 Too bad you can't drive with the bonnet open. Would really worth it is this case!
 We had a real crush on this Butaketsu (Nissan Laurel). Simple, yet sexy, the Laurel is full of spicy details!
 Pasco-Fame Bilbo in 14x10J. As beautiful as rare!
 The L31 rocks a set of Mikuni 44 carbs
 Details once again with this genuine tsurikawa
 The interior matches the exterior: pure perfection! The suichuuka shift knob with the wooden base is a piece-of-art by itself!
The owner had a box of 70-80's classics tapes on his rear seat. Talking about details...
Hope you enjoy this event coverage! Please leave us a comment or send us a message if you have requests, if you want to see more of a specific car or style! ヨロシク!